IC Markets is an Australian Forex broker established in 2007 and regulated by the Australian Securities and Investments Commission (ASIC) and CySEC. This last regulation is valid for Cyprus and for the whole European Union.
IC Markets is also an ECN broker, i.e. it does not re-quotes and the price visible on its platforms is the market price. ECN stands for Electronic Communitation Network and is a very used acronym in online trading because it distinguishes the brokers who intervene on the market price and the brokers who decide not to do so.
In this IC Markets broker review you will find all the insights you need to understand how this broker is made. We will see on which assets you can operate, which types of accounts are available and much more.
IC Markets Review: Highlights
In our review we immediately start from the strengths of this broker. In addition to the speech relating to the high leverage for Australian customers, which we have already talked about at the beginning of the article, we present other peculiarities of the broker.
Low spreads. Thanks to tight spreads, sometimes zero, ie equal to 0.0, traders can operate optimizing their profit as much as possible. Spreads that are too high often lead traders to cede significant shares of their profit to brokers. IC Markets offers the most competitive spreads available in the world for the EUR / USD pair and in the top five in the world for most other exchange rates.
Fast execution. Especially for those who make a scalping strategy, the speed of execution is crucial. Often the delay can cause the cancellation of the opening of the position or the entry to the market on a different price from the moment of the click. This can be frustrating and even unprofessional, but this is not the case at IC Markets.
Liquid assets. Traders registered on IC Markets can trade from 1 microlot up to a maximum of 200 lots. The choice is therefore very wide.
MT4 and cTrader platforms considered among the best in the world. We will talk about it in a specific paragraph.
Academy with glossary and blog.
IC Markets accounts
The accounts offered by the IC Markets broker are three: True ECN cTrader account, True ECN Metatrader4 account and Standard account.
We can see how the first two accounts have spreads starting from 0.0, but there are commissions for each open lot, although very low. The Standard account, on the other hand, does not have spreads lower than 1.0, which is still very tight, but it also does not have commissions for each open lot.
Demo Account
If you are not ready to open a real money account you could consider opening a completely free demo account. Thanks to the demo account you can operate on the financial markets present on the IC Markets platforms in total safety and with virtual money.
Thanks to demo account you can test the broker and the financial markets, as well as your trading aptitude. Here you can study the best strategies and those that are right for you. By investing fake money you will not lose your money, which can only be invested when you are ready to do so.
To open a demo account, as shown in the image, simply provide your name, surname and email address. Registration is therefore very easy and very fast.
Islamic Account
The broker IC Markets offers the Islamic account (or also called "free swaps") for all those who for religious reasons cannot earn or pay interest on financial transactions.
In lieu of interest, holders of the IC Markets Islamic account will pay a fixed commission for each position opened more than one day, regardless of the amount invested.
IC Markets Platoforms
The choice of assets on which to invest on IC Markets is really very wide. It includes Forex currency pairs, stock indices, commodities, stocks, cryptocurrencies, bonds and futures.
There are three trading platforms available on IC Markets: Metatrader 4 (MT4), Metatrader 5 (MT5) and cTrader. On all three platforms it is possible to access it both via the PC (web-based version) and via tablet and smartphone (mobile version).
All three platforms are highly professional and highly regarded by traders. However, each of them has different aesthetic and content characteristics. We have seen for example previously that some assets are only available on MT4 or MT5.
The trading platforms can be downloaded from the IC Markets website for free and with a single account you can switch from the web version to the mobile or vice versa. The mobile version is available for both iOS and Android devices.
If you do not want to download the platform on your device, you can operate online directly from your browser after logging into the IC Markets website.
MT4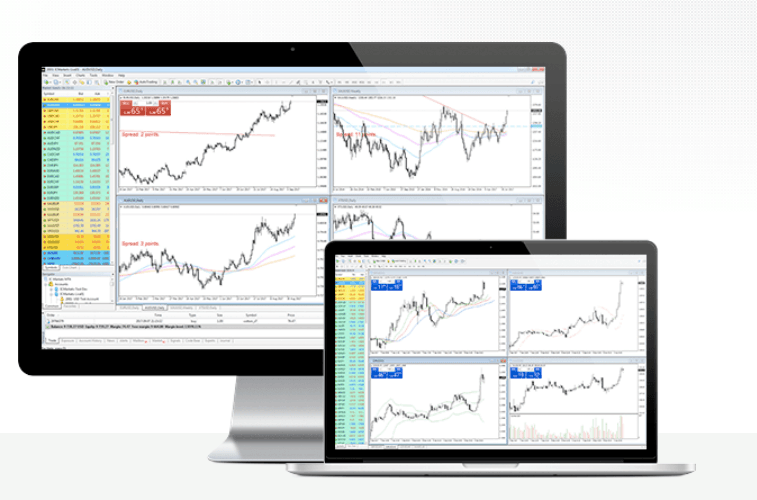 The MT4 trading platform is famous for its ease of use and speed of execution of trades, which allow traders to have greater fluidity. Especially for scalpers this is very important because an error of a few tenths could compromise the operation.
Commissions are very low on MT4. The minimum lot is 0.01, so even traders with limited economic availability will be able to trade.
The interactive chart also helps traders to better understand what is the current trend and what will be the future trend of the assets on which they want to invest. The chart can be customized and filled thanks to the best technical analysis tools offered by the online trading platform.
MT5
The Metatrader 5 platform, also known as MT5, is very similar to MT4, but with some more features.
In fact, the shares are tradable only on this platform and not on the other two. The limit of the MT4 was related to equities, a problem overcome by the MT5 which is more complete.
cTrader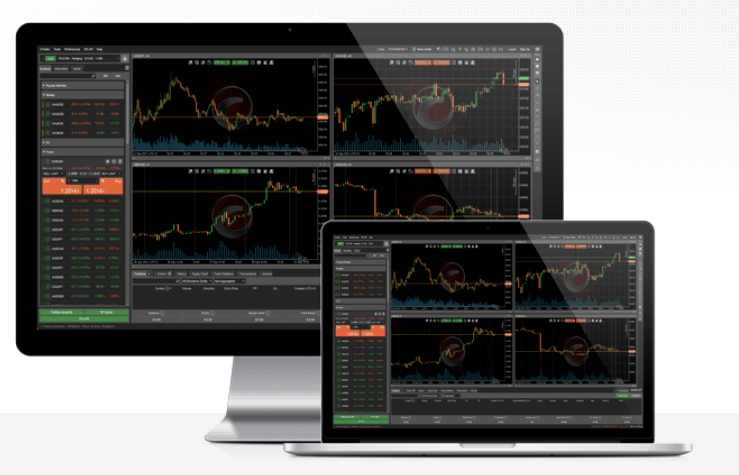 The cTrader platform is a valid alternative to MT4 and MT5. The strong point is the ECN connectivity, which allows the platform to always show real prices without re-quotes.
Furthermore, the execution speed is very high, for this reason it is one of the first choices of scapers and those who trade intraday. The batch size starts from 0.01.
How to deposit and withdraw funds on IC Markets
IC Markets offers 14 payment options being able to use 10 different currencies. Let's see together what are the accepted payment methods:
Credit / debit cards with Visa and MasterCard circuits. The accepted currencies are AUD, USD, JPY, EUR, NZD, SGD, GBP and CAD. The deposit is instant.
Paypal. Available currencies: AUD, USD, JPY, EUR, NZD, SGD, GBP, CAD, HKD and CHF. Instant deposit.
Neteller or Neteller vip. Currencies accepted: AUD, GBP, EUR, CAD, SGD and JPY. Instant deposit.
Skrill. Available currencies: AUD, USD, JPY, EUR, SGD and GBP. Instant deposit.
UnionPay. Currency accepted: RMB. Instant deposit.
Wire transfer. Available currencies: AUD, USD, JPY, EUR, NZD, SGD, GBP, CAD and CHF. Deposit in 2-5 business days.
Bpay. Currency accepted: AUD. Deposit in 12-48 hours.
FasaPay. Currency accepted: USD. Instant deposit.
From broker to broker. Currencies accepted: AUD, USD, JPY, EUR, NZD, SGD, GBP, HKD, CAD and CHF. Deposit in 2-5 business days.
Poli. Available currency: AUD. Instant deposit.
Thai Internet Banking. Currency accepted: USD. Deposit in 15-30 minutes.
RapidPay. Currencies accepted: EUR and GBP. Immediate transaction.
Klarna. Currencies accepted: EUR and GBP. Immediate transaction.
Bitcoin Wallet. Currencies accepted: BTC. Transaction in 1-2 hours.
Vietnamese Internet Banking. Currency accepted: USD. Immediate transaction.
The same payment methods can be used to withdraw. The waiting time is generally 3-5 working days. In case of unforeseen events, it can take up to 10 days.
Per ogni evenienza il centro assistenza è attivo 24 ore su 24 e 7 giorni su 7.
IC Markets Academy

IC Markets' training center is a good place to learn the functionalities of trading online and is complete with all basic information on Forex, CFDs and financial markets. The language used is English, since the broker as we have already said is Australian.
On the IC Markets website you will find news first of all about what Forex is and what its advantages are, such as the fact that it is a market open 24 hours a day, 5 days a week, but above all that it can be reached from all over the world. world. The Forex (currency market) is also the most liquid in the world, very high amounts of money are traded every day, it is estimated around 5 trillion dollars a day.
Also on the website of the online broker we find a description of the CFDs, which allow the trader to take advantage of the rises and falls without having to own the asset. In this way the trader can speculate on stocks, currencies etc. without having to become a partner or actually buy an asset. Furthermore, the possibility of going short, that is to invest in the fall of an asset, is an opportunity not to be underestimated.
Conclusions and opinions on IC Markets
In conclusion, we can define IC Markets as a broker that is certainly interesting from many points of view.
Low spreads, sometimes even zero (0.0 pips), are very attractive to day traders and scalpers. In general, having no spread is an advantage because you will not have to give anything to the broker in reference to the position you open. The commissions are necessary to allow the low spreads, but even these are not expensive and allow the trader to be able to optimize their earnings.
If after this review on IC Markets you are still not convinced of the broker, you could evaluate the opportunity to open a demo account for free and experiment with the broker's platforms and financial markets.