How to invest in an online stock market from scratch? This is one of the most common questions that a novice trader asks himself. If you also have savings and would like to invest in the stock market through online trading, you are in the right place. In fact, we will create a comprehensive guide and we will explain in simple words how to invest in the online stock market from zero.
Before starting, it is advisable to specify that online investments are not a game and should not be taken lightly, above all we remind you that this guide must be interpreted as a starting point and not as an investment advice.
How to invest in the online stock market from scratch: what is the stock market?
As the first step in our guide on how to invest in an online stock market from scratch, we think it is necessary to explain what a stock exchange is. If you have come this far we assume that you already know the answer to a small extent, but for completeness we want to give you one without being too boring.
A stock exchange is the place where the trading of equities, bonds, but also of derivative financial instruments, such as futures, takes place.
The stock exchange is primarily a regulated and official market. This indicates that the transactions, the way in which they occur and all the contracts to be issued are regulated
With the development of technology and the internet, the physical role of the stock exchanges has disappeared and today the negotiations take place electronically. That's why we talk about online trading, since the negotiations happen online!
Is it possible to invest in the stock market from home?
Of course it is, you can trade online directly from your home, it is not necessary to go to a bank branch. Today, banks have also developed trading platforms, where you can invest in the stock exchange and other financial markets.
Read also Buying shares: how to invest in shares for beginners.
If it is not the first time you surf on Meteofinanza.com, you will certainly know that over the years we have reviewed several online brokers, which allow you to invest on the stock exchange or on other markets directly from home or, even better, from your smartphone.
So, can you invest from home stock market? Yes, and not only! You can invest from anywhere, as long as you have with you:
a financial intermediary (for example a broker);
a device that supports the trading platform (even a smartphone);
an internet connection;
sufficient financial availability on your account.
This last assessment must not scare you, many brokers allow you to invest on the stock exchange even with a reduced financial availability. For example, the minimum deposit of eToro is $ 200, while IQ Option even gives you the opportunity to invest real money by depositing only € 10!
How is a company listed on the stock exchange
We talked about stock exchange and shares, but how is a company listed on the stock exchange? In fact, the stock market is made up of securities representing companies that have decided to list on the stock exchange, or to sell their own share to the free market.
The term for a company to be listed on the stock exchange is an IPO.
IPO is the acronym for Initial Public Offering. The IPO is an offer intended for the public for the purchase of the shares of a company that wants to be listed on the stock market.
The IPO can be divided into three different types, which we will list below:
Public offer for subscription. It is the sale of entirely new shares issued by a company that is about to go public.
Public offer for sale. It occurs when a company sells shares that are not new but already owned by the shareholders.
Public offer for sale and subscription. This type is a mix of the two mentioned above.
If the IPO is successful, the share can be traded on the indicated stock exchange and it will therefore be possible to buy and sell new shares.
How much to invest?
How much to invest in the online stock exchange? Here many people make mistakes and are eager to invest more than they should, but let's go step by step.
Remember that the investment could go wrong, sometimes very bad! In fact, you could lose the entire amount invested if you have not made a correct market evaluation, if you have been unlucky or for any other reason.
So how much to invest? The figure that you can afford to lose, without which you can continue to live your life without any kind of problem. We are talking about a figure that should not exceed 4-5% of your capital, so it must be really ridiculous if we consider your total assets.
Isn't the figure coming out high enough? Then it means that the time has not come to invest, which could come later, so don't worry!
If, on the other hand, you put aside savings and 4-5% of your capital is not a small amount, you could consider making online investments!
How to invest in the online stock market from zero: how to start?
How to invest in an online stock market from scratch? We think that initially you have to start with a demo account, thanks to which you can invest in financial markets with virtual money.
You got it right, many brokers offer this opportunity for free. In this way you can jump from theory to practice without risk and you can test not only your skills on the financial markets, but also the platform of the broker you have chosen.
You will be able to see if you like it, if it meets your needs and if it has all the assets you want to trade on.
At the same time you could attend courses, webinars or read ebooks on online trading, so you can get an idea of ​​what it is about.
Which broker to choose? We at Meteofinanza.com have reviewed the best brokers, all of which are regulated and therefore authorized by the financial market supervisors to offer this service. In the next paragraph we will introduce one of the best brokers for investments in the online stock market.
How to invest in the online stock market from scratch on eToro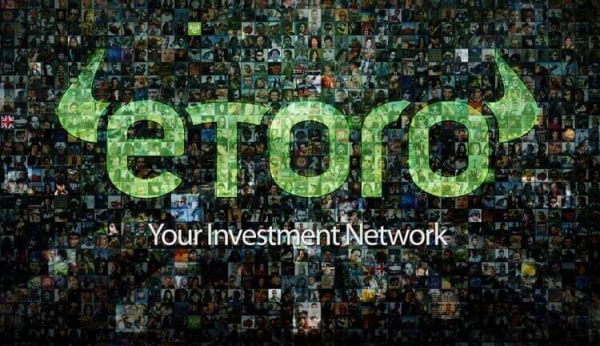 The first broker that we present to you to invest in the online stock market from scratch is eToro. As we have already anticipated, eToro allows you to either start with a free demo account or with a real account starting from $ 200.
On the eToro platform you will be at ease, it is in fact designed for every type of trader, even those who are beginners who do not know the world of investments.
The broker is a world leader in social trading, which we can consider a different way of thinking about investments. The eToro platform is in fact a real social network, here you can have a dashboard that can be public or private at your discretion. If you choose the first option, all eToro traders will be able to observe your past and ongoing performance, understand what your risk profile is and which assets you prefer to invest in.
Why do we think that it is right for you?
Especially if you are a beginner, it can be useful to start trading online by comparing yourself with other people. On the eToro platform you can communicate with other traders, ask for advice, understand what strategy others have adopted. We believe that all of this is positive and that you too can be part of the eToro community.
Would you like to invest like the best traders? On eToro you can do it, more precisely you can copy their positions thanks to copytrading!
That's right, with a few clicks you can copy other traders and have a profit if they get it! Conversely, if the copied trader should suffer a loss, unfortunately you too will lose money.
Do you remember that you can open a free demo account on eToro? What are you waiting for … join the eToro traders by clicking below!