Among the best virtual wallets, eToro wallet deserves a special mention. In recent years, the broker has established itself as a leader among European financial intermediaries and has invested heavily in its cryptocurrency offering.
The eToro Group has in fact launched eTorox, a regulated exchange in Gibraltar that offers the possibility to buy and sell cryptocurrencies.
The strength of the eToro brand has pushed many traders to approach cryptocurrencies with the awareness of negotiating with a reliable intermediary, who pays close attention to customer needs.
The eToro Wallet was created precisely to offer investors a safe place where they can keep their cryptocurrencies and buy and sell them safely.
Today in this guide we explain what the eToro Wallet is and how it works. Above all we will explain how to transfer your cryptocurrencies from your eToro account to your eToro Wallet and then from this to other digital wallets.
eToro Wallet: what is it?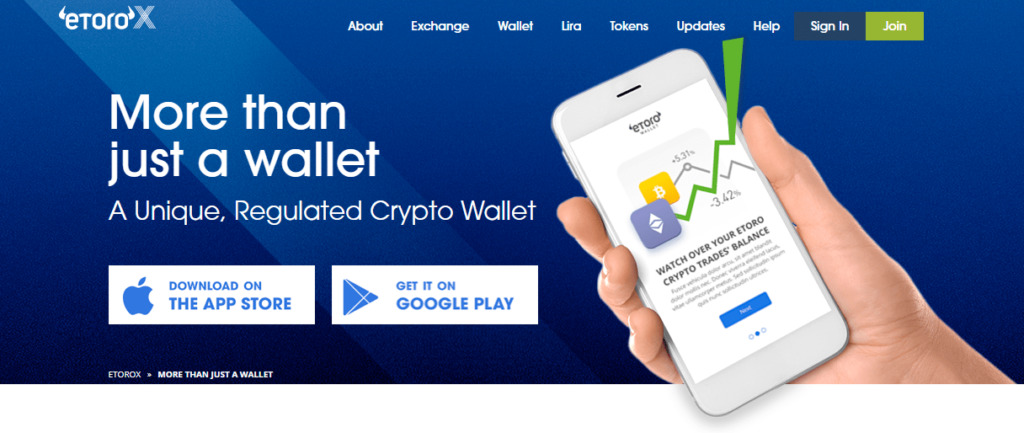 Let's start from the basics, the eToro Wallet is the digital wallet created by eTorox to buy, store and send cryptocurrencies. The eToro Group claims that in the future all assets will be "tokenized" and cryptocurrencies are nothing more than the first step on this path.
On the eToro Wallet there are more than 120 cryptocurrencies, while the cryptocurrency pairs are more than 500. It is in fact a multi-cryptoasset digital wallet, you will not only find the most famous Bitcoin, Ethereum and Ripple, but also many other altcoins.
To summarize, with the eToro Wallet you can:
transfer cryptocurrencies from the eToro trading platform;
send / receive crypto to and from other wallets (including yours);
exchange cryptocurrencies with other cryptocurrencies.
We have therefore answered the first question, which many are asking on the web. Yes, you can transfer cryptocurrencies from eToro's trading platform to this wallet. All of them? Not yet, but the list is constantly growing.
How to transfer cryptocurrencies from the eToro account to the wallet? We will talk about this in the next paragraph. First of all it is advisable to have an account on eToro, which you can open from here:
How to transfer cryptocurrencies from eToro to the wallet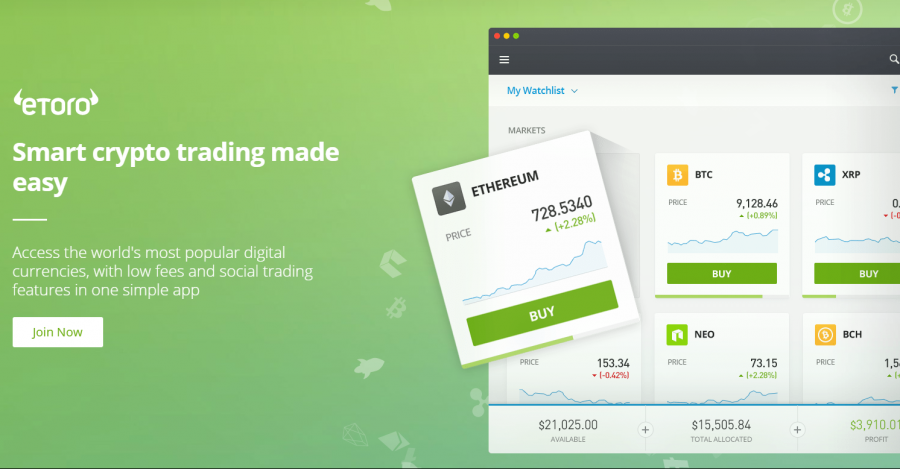 The question that many ask themselves is not so far-fetched, in fact eToro has offered the possibility of transferring cryptocurrencies from the trading account (and therefore from the platform) to the eToro Wallet.
As we have anticipated, not all cryptocurrencies can be moved from the trading platform to the eToro Wallet, but only some of them, despite the fact that the list is constantly increasing. At the time of writing, you can transfer as many as 16 cryptocurrencies.
Among these we obviously find Bitcoin, Ethereum, Litecoin, but also virtual currencies with less market capitalization such as Tezos, Tron and zCash.
In order to transfer these cryptocurrencies to the eToro Wallet you must meet the following requirements:
Be resident in a country eligible for this service.
You must have opened a Long position (Buy) on the concerned cryptocurrency and not through CFDs, therefore without leverage.
If you meet the last requirement you must click on your position in your portfolio to open the Edit Transaction window. At this point you will see the option to transfer to Invested.
The position you wish to transfer must have an invested amount or current value that does not exceed the total amount of eligible deposits made;
You can transfer crypto-assets up to the value of any deposit made by wire transfer, Neteller, Skrill, Rapid Transfer or Local Online Banking at any time;
If you use other payment methods such as credit card, PayPal or Klarna / Sofort and you are a Bronze user you must wait at least 180 days before you can transfer a balance equivalent to your initial deposit. If you are a Silver, Gold, Platinum, Platinum + or Diamond user the waiting time is reduced.
Perhaps the last points are not perfectly understandable, so let's try to clarify. If you deposit via bank transfer, Neteller, Skrill, Rapid Transfer or Local Online Banking you can transfer cryptocurrencies up to the value corresponding to your deposit.
If you use the other payment methods, you can only transfer cryptocurrencies if they have a value lower than your deposit. Alternatively, before sending crypto to your eToro Wallet you have to wait some time depending on your level.
eToro Wallet download and login
Downloading the eToro Wallet is very simple. In fact the app is available for both Android and iOS devices. So you can find the virtual wallet both on the Google Play Store and on the App Store.
To access your eToro Wallet you need to have a trading account on eToro and you must pass the verification process (standard procedure in line with current legislation).
You can then log in with the same credentials as your trading account on eToro. Don't have a trading account yet? You can do it in minutes from here:
How to send money from the eToro Wallet to other wallets
We have seen how to transfer money from the trading platform to the eToro Wallet. Now that cryptocurrencies are in your digital wallet, you can send them to other e-wallets, even if they don't belong to you.
The process is very simple and is the same that you can find on other wallets of other brands. Basically each e-wallet has its own public address, which roughly corresponds to the IBAN of current accounts.
More precisely, you will have to follow these steps once you have opened your eToro Wallet:
in the Balance section select the cryptocurrency you want to transfer and press Send;
select the amount and public address of the wallet to which you want to send crypto, alternatively you can scan the recipient's QR code with the camera;
press Send;
receive the security code via SMS, enter it and press Verify;
finished! Your transaction is in progress, you can check the progress in the Transactions section.
Can I transfer cryptocurrencies from the trading platform to the eToro Wallet?
Yes, read our guide to find out how.
Is the eToro Wallet regulated?
Yes, the eToro Wallet is made by eTorox, which is authorized by the Gibraltar Financial Services Commission under the Investments and Financial Fiduciary Services Act with license number FSC1333B.