Opinions on eToro are widespread on the web, being one of the best known brokers and social networks operating internationally and, for sure, the most famous online investment social trading in the world. In this eToro review we will give our opinions on the broker trying to be as objective as possible.

eToro is a multi-asset platform that offers both investments in stocks and in cryptocurrencies and, more generally, CFD trading.
Please note that CFDs are a complex tool and may involve a high risk of rapid loss of money due to leverage.
66% of retail investors lose money with CFD trading with this broker. You should consider whether you understand CFDs well and whether you are able to deal with the high risk of losing your capital.
This article is for instructional and informational purposes only and should not be considered as investment advice.
eToro is an absolutely sure and satisfactory operator, which over the years has attracted many traders, retaining them with a quality service and a very attentive customer care service. These qualities prompted us to give our opinions on eToro and to write this review. But what are the main features that eToro offers and how does this broker really work?
Notice
: ESMA has significantly reduced the leverage for retail traders. From August 1, 2018 the maximum leverage values will be the following:
30: 1 for major currency pairs, i.e. those that include the US dollar, such as EUR / USD or GBP / USD.
20:1 for secondary currency pairs, i.e. those that do not include the dollar, such as EUR / CHF; for gold and the most important stock indices in the world.
10:1 for all other commodities and secondary stock indices.
5:1 for shares.
2:1 for cryptocurrencies, like Bitcoin.
Professional traders can instead keep using any level of leverage offered by the chosen broker.
eToro – opinions: reviews and regulation/license
eToro is a company / brand of eToro (Europe) Ltd. for financial services regulated by CySEC (the Cyprus Market Security Commission) with license no. 109/10. Also operating through a British division, the company is also authorized and regulated by the British FCA, with license FRN 583263. In addition, the company operates in Australia with eToro AUS Capital Pty Ltd. ("eToro Australia"), ABN 66 612 791 803, which holds an Australian Financial Services License (AFSL) 491139 issued by the Australian Securities and Investments Commission (ASIC), and regulated under the Corporations Act (Commonwealth). Finally, eToro Australia requires that its customers' services are provided by eToro Europe.
The eToro reviews that you can find online are generally very positive. And even our test on its use, which lasted a week, was able to easily demonstrate how the numerous strengths of this platform are able to generate good user satisfaction (even those who are beginners with Forex trading and with Forex brokers) which has chosen eToro as the reference broker for its online transactions. With a large portfolio of tools to invest in, an excellent training and assistance area and the inevitable social trading platform, which has made eToro a real synonym of interaction, we can only express a substantially positive review of all the opportunities that you could easily find within the service offered by the broker.
| | | | | |
| --- | --- | --- | --- | --- |
| CHARACTERISTICS | | FREE    | RATING       | |
| DEMO ACCOUNT | YES | YES | 5/5 | |
| SOCIAL TRADING | YES | YES | 5/5 | |
| PROFESSIONAL TRAINING | YES | YES | 5/5 | |
| MOBILE TRADING | YES | YES | 5/5 | |
| BITCOIN CRYPTOCURRENCY | YES | | 5/5 | |
| ETHEREUM CRYPTOCURRENCY | YES | | 5/5 | |
| LITECOIN CRYPTOCURRENCY | YES | | 5/5 | |
| DASH CRYPTOCURRENCY | YES | | 5/5 | |
eToro – opinions on copy trading: is it reliable and safe?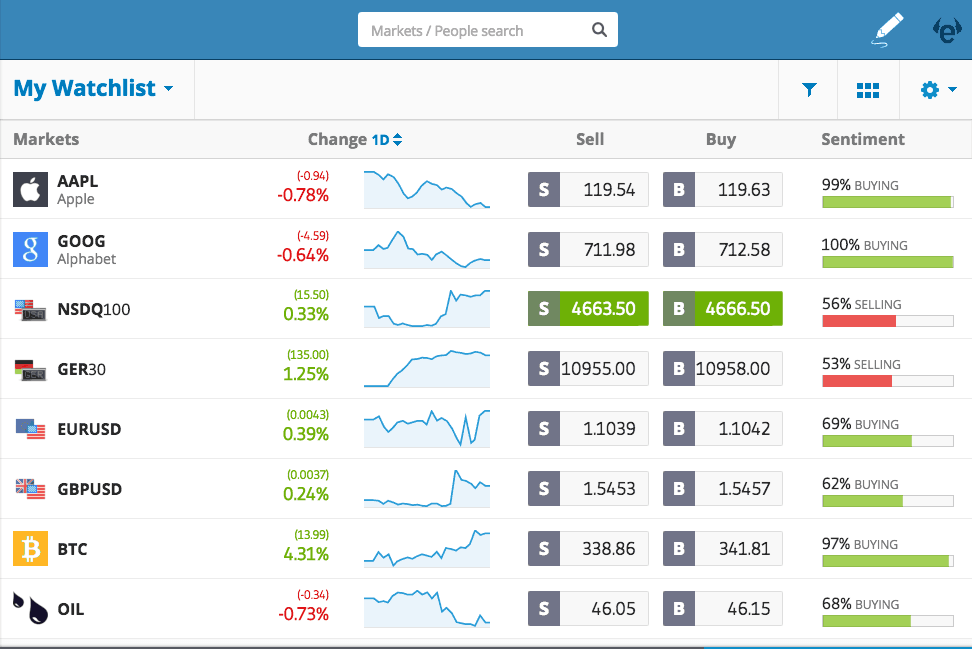 It is difficult to summarize eToro's strengths within the many opinions that are expressed daily, by professional and non-professional traders, who choose this broker for their online transactions. In an attempt to put in place some additional information value, we can however identify 7 benefits of which you can no longer do without:
Simplicity: eToro's platforms are easily usable, and anyone will be able to trade within a few moments of joining the service. The trading platforms are in fact flexible and customizable, allowing beginners and experts to find identical, high satisfaction.
Social

trading

: although eToro is not the only broker to offer social trading platforms, it is in eToro that these services were born and developed in the most convincing way. It's up to you to choose whether to just share your strategies with other users, or start to "follow" and "copy" the performances of the best known and most successful traders.
Conscious

Trading

: eToro offers its customers a wide range of tools and services aimed at allowing all users to increase their experience and, consequently, their awareness of calculating their own risks deriving from the operations carried out with the broker.
Dedicated assistance: eToro guarantees its customers a dedicated assistance, that will allow them to overcome any technical obstacle (and not only) towards the road of a correct use of all the features of the service.
Free training: a wide range of courses, training activities, information and analysis are offered to allow all traders (from the beginners to the more advanced ones) to be able to enrich their knowledge, day after day.
Copy

trading

: it is one of the most appreciated functions. Copy trading allows you to follow and replicate the behaviour of the most appreciated and successful traders.
66% of retail investors lose money when trading CFDs with this provider. You should consider whether you are able to face this high risk of losing money.
eToro – comments: is social trading worthwhile?
In light of the valuable characteristics that we have summarized above, it should be quite clear how eToro is one of the maximum international references in the world of online trading. We have not had negative opinions on eToro, all the comments found also on the internet are generally very positive, and the satisfaction comes from the quality of the service, from the effective social trading and from the good assistance provided. A qualified support that we have been able to test, obtaining a prompt and courteous response to our advanced question.
eToro – demo: how to open a free test account
Our opinions on eToro can only be positive due to the opportunity of a $ 100,000 virtual demo account. eToro also allows its customers to be able to experience the possibility of trading in complete safety by opening a demo account. This is an opportunity that, as we have repeatedly underlined in the pages of our site, we highly recommend: by opening a demo account you will not only be able to touch all the promised characteristic of the broker's platform, as well as to test your trading strategies without any risk, and test their solidity on the financial markets.
The eToro demo account replicates all the main characteristics of a real account, entering you into a real context (the scenario is the current one, with data updated in real time), but allowing you to spend virtual currency. In short, a "driving" test without any risk and with many benefits, which we suggest you to undertake as soon as possible!
eToro – withdrawal options / how to withdraw
| Service provider | Estimated time to receive funds |
| --- | --- |
| China Union Pay | 1-2 working days |
| Credit/debit card | 3-8 working days |
| Neteller | 1-2 working days |
| PayPal | 1-2 working days |
| Skrill Limited UK | 1-2 working days |
| WebMoney | 1-2 working days |
| Bank transfer | 3-8 working days |
Withdrawals from eToro are easy and safe. In fact, it will be sufficient to access your account, go to the "Cashier" / Cashier section, click on Withdrawal, enter the amount to be withdrawn, complete the form and click on Send. After a short time, the user will receive an email notification, with the details of the processing of their withdrawal request.
| Withdrawal amount (USD) | Fee (USD) |
| --- | --- |
| Any amount | 25,00 |
Please note that in order to make the first withdrawal request – for additional security purposes – it will be necessary to send a readable color copy of the passport or ID, where the holder's signature is visible, a readable copy of a utility bill, issued from no more than 3 months, in which the name of the account holder and the address are indicated (water, telephone, gas, electricity, etc.); alternatively, a bank statement.
Finally, if you have previously made a deposit using one or more credit cards, you must send a front and back copy of the credit cards used to feed your trading account (the 8 central digits on the front of the card and the CVV can be hidden).
How does eToro work? Summary
Certifications/ Regulation

CySEC license n. 109/10
FCA, with license FRN 583263.
Demo Account:
Free Demo Account of $100.000
Security:
International protocols
Minimum deposit:
200,00$

Leverage

:
30:1 and 2:1 (it varies according to the volatility of the underlying asset)
Payments:
Safe and fast
Rates:
Competitive
Assistance:
Chat 24h
Cost of the platform:
Free
Additional resources:
Market analysis, Trading Academy (live webinar, eCourse, online trading videos)
Use:
Easy, simple and intuitive
Withdrawal and deposit methods:
Bank transfer, Neteller, Paypal, Skrill, Union Pay
Language:
English, + 15 foreign languages
Withdrawal:
Safe and fast
Mobile app:
Available
The functioning of eToro is really easy for any type of trader, even for those who have never previously carried out an online investment transaction. The available platform, in fact, has been customized in such a way as to be as an ideal guide for carrying out all the transactions for opening, closing or managing positions, thus allowing the trader to be able to invest in a few moments, even from mobile (mobile trading is guaranteed by specific apps for the main operating systems).
eToro – opinions on trading
Like any major broker, eToro users will also have the opportunity to invest in stocks, currencies, commodities and indices, thus investing in the main financial markets around the world. The range of assets that can be subscribed is actually quite wide, and includes not only financial instruments or major currency pairs, but also apparently secondary or exotic ones. Good news for all traders who are more attentive to market opportunities, who want to better diversify their investments.
eToro – scam?
eToro is one of the most important European brokers. With more than 10 million users in more than 140 countries around the world, eToro is also one of the largest operators in terms of number of operations and average volumes. The companies of the group are regularly authorized to operate by the competent authorities, with client funds separate from company funds. The multilingual technical assistance provided responds promptly to all needs, ensuring maximum serenity for all users who need to solve small and large operational problems.
eToro is a very serious and reliable broker, and you can hardly find online the name of this broker associated to any scam. We therefore reassure you about the seriousness and concreteness of this broker's proposal, certainly one of the most qualified and competent on the international trading scene.
eToro – final opinions: platform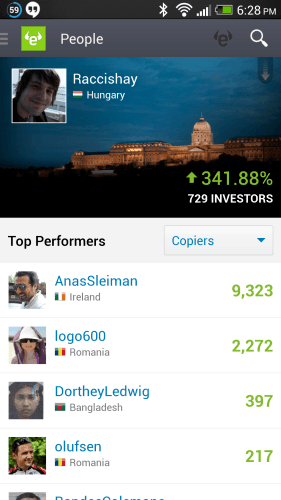 One of the most appreciated features of eToro has recently turned ten. In fact, it was 2010 when the broker, one of the most important online financial trading companies on the international market, announced the launch of its new platform, a fundamental tool for all traders careful to the personalization of their strategies, able to allow the investor to view, share and track the activities of traders present on the same platform in real time. The eToro platform therefore allows the trader to be able to interact in real time, sharing information with other traders and, consequently, placing a significant milestone in the history of online trading.
From this point of view, the eToro platform is therefore another of the building blocks that the broker wanted to experiment for the training and operational success of its customers: a tool that focuses attention on the concept of collaboration, thus allowing any trader interested in financial markets and its dynamics, to be able to attend negotiations in real time, observing the moves of the experts.
In fact, regardless of their level of individual experience and their motivation for employment, everyone will be able to compare themselves with other traders, try to discover their strategies and thus rely on the performance and skills of professionals. The most experienced traders, on the other hand, will be able to cover the role of experts, with all that follows with regard to the benefits acquired.
eToro – CryptoPortfolio – the simplest way to invest on the best cryptocurrencies
Positive opinions on eToro also with regard to copy portfolios. The broker is in fact happy to present the Fintech revolution, which has given rise to the CopyPortfolio function, or the brand new financial instrument, unique in its kind, which allows you to invest in the cryptocurrency market.
Cryptocurrencies conquered the market in the first half of 2017, so that today its demand has quadrupled.
Thanks to this new tool, eToro has made it easy to invest in crypto currencies even though many traders are still wary of this asset.
Unfortunately, this type of investment is not suitable for all traders, but above all it requires knowledge of risk management and safety.
That's why eToro has implemented CryptoPortfolio to give anyone a way to invest in the cryptocurrency market using an easy-to-use, regulated and authorized platform.
CryptoPortfolio was created to be used to make investments in cryptocurrencies. Also keep in mind that CryptoPortfolio is rebalanced every month.
This tool therefore offers you a diversified and balanced portfolio, which focuses on cryptocurrencies with a market capitalization of at least $ 1 billion (with a rounding up to 2%). It offers an average daily trading volume of around $ 20 million throughout the month.
The weight of each component of the CopyPortfolio is also decided based on the market capitalization, with a minimum of 5%.
It will be the eToro investment committee that will rebalance the CryptoPortfolio on the first trading day of the month.
The exclusion of a currency from the CopyPortfolio will only take place if the market capitalization of the currency falls below one billion dollars, or if the average daily trading volume falls below $ 20 million.
The total daily investment also includes a limit to the CryptoPortfolio, based on the order of arrival of the orders.
Only after the daily limit is reached, the CopyPortfolio will be closed for new investments and will reopen the next day.
Warning: closing of open positions in the CryptoPortfolio will not be limited and will be possible at any time.
The eToro CryptoPortfolio allows to invest on the following cryptocurrencies:
Bitcoin (BTC);
Ethereum (ETH);
Bitcoin Cash (BTH);
Ethereum Classic (ETC);
Dash (DASH);
Litecoin (LTC);
Ripple (XRP);
Cardano (ADA);
MIOTA (IOTA);
Stellar Lumens (XLM);
EOS (EOS);
NEO (NEO);
Tron (TRX);
Zcash (ZEC);
Binance coin (BNB).
The CryptoPortfolio is a unique investment opportunity and is ideal for all traders who do not necessarily have the time or knowledge to trade in cryptocurrencies.
66% of retail investors lose money when trading CFDs with this provider. You should consider whether you are able to face this high risk of losing money.
eToro – markets section and how to invest on eToro
If you have decided to invest through eToro, it is good to take a look in advance at how their renowned online trading platform works. It is a completely web-based platform, which does not require any installation on your computer, and more importantly, it is very easy to use even for less experienced traders. By accessing the "Markets" section, through the relevant option in the menu on the left, we will find ourselves in front of the page dedicated to financial markets, where we can choose the assets to invest in.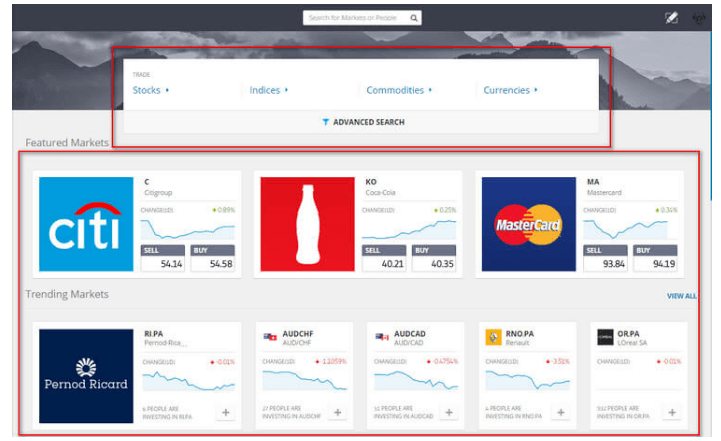 As we can see from the image above, the markets section is basically divided into two sections:
At the top you can see the menu with the four macro categories of assets available on the eToro platform. These are equity securities, equity indices, Forex currency pairs and finally commodities. Just select one of these categories to find yourself in front of all the assets available in the selected category.
In the central part below, the assets of the selected category are shown, divided by sector of belonging or by earning performance or by the most traded assets at the moment.
After selecting one of the four macro categories, it is also possible to view the individual assets, or search for specific assets, or perhaps simply view one of the sub-categories of assets already present (those automatically divided by sector, performance, etc. ..). In all these cases you will see such a screen: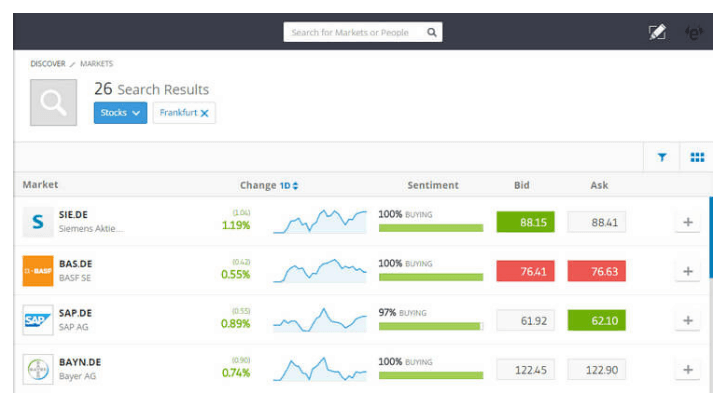 As you can see, the table is divided into sections:
Market: it shows the name of the asset, if it is a share there is the so-called Ticker, or the abbreviation for recognition (instead of the full name).
Change: it indicates the percentage and pip variation of the asset with respect to its reference price. Basically, the variation compared to the price of the last day is shown, but this setting can be changed and the variation can also be set on a weekly or monthly basis.
Sentiment: it indicates the percentage of eToro traders who at that moment have an open position on that asset, showing if there are more traders who have invested upwards or downwards.
Bid and Ask: it shows the best prices to buy and sell the CFDs with that underlying asset selected. By clicking on one of these two prices, the menu will open to invest in that asset by buying or selling.
Finally, note that there is a + symbol at the end of each asset line. By clicking on this symbol, you will add that asset to your Watchlist, or to your list of favorite and followed assets. To open a position on one of the assets, you will need to click on the respective asset or directly on the bid or ask price. In both cases, such a screen will appear when you have to invest.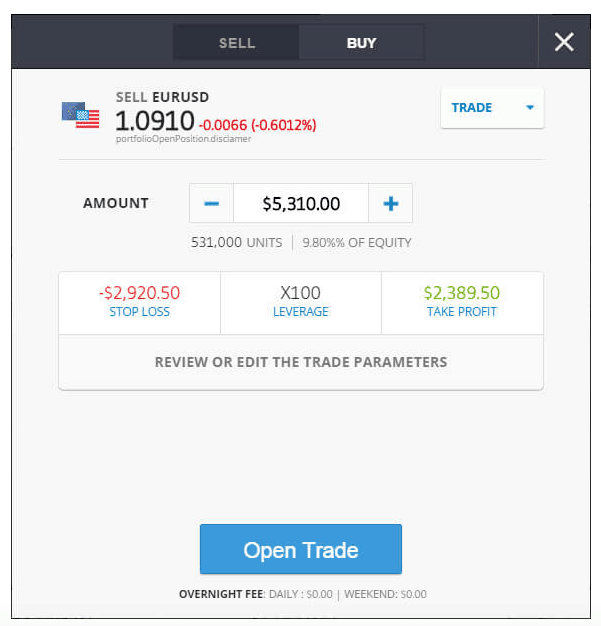 As you can see from the screen above, the type of operation that is about to open is always shown (whether long or short, therefore whether you are buying or selling). Other information includes the asset we are investing in, as well as its variation in percentage and pips compared to the closing price of the previous day. At this point we will have to select the following settings.
Amount: we must select the total capital that we want to invest in this operation. Once the amount has been entered, we can immediately see how much it corresponds in percentage to our capital (equity), but also the total amount that we will move thanks to the use of leverage.
Leverage: here we have to choose the leverage we want to use, among those that eToro makes available to us for that selected asset. Always remember that the higher the leverage, the greater the risk you expose yourself to.
Stop loss and take profit levels we can also select the levels that represent the maximum we want to lose (stop loss), and the minimum amount that we want to gain from the operation (take profit). When one of the two digits is reached (before we manually close the position), then our position is closed automatically by eToro (or to stop the losses, or to take the desired profit). Stop loss and take profit levels are fundamental and must be chosen with extreme caution.
Finally, remember that it is also possible to decide whether to set the order at the current market price (then the order is immediately placed on the market and the position is opened), or whether to open the position only if the price we set is reached. All this can always be chosen from the screen we see above (in the example "trade" is selected, ie the order at market price; otherwise by clicking on it, you can choose the other option).
But the functions of the eToro trading platform do not end there. In fact, for each individual asset, it is also possible to see the live feed, as we can see from the image above. The Live Feed page, in addition to giving basic information on the selected asset, also provides us with the "social" part of the eToro platform. The live feed of an asset can be considered as a Facebook page: all investors can "post" their opinions and analyzes regarding the performance of that asset, as well as their advice and investment strategies in this regard.
In the sidebar of the Live Feed section we find instead:
Linear chart: it shows the trend of the value of the asset during the past month.
Followers: here we can see the number of investors that put that asset among their favourites.
Investors: it shows the current number of traders who opened a position on that asset.
Sentiment: from here we can see instead how many traders are buying or selling the asset, in percentage.

Related markets

: it is also possible to see other markets related to the concerning asset, in case we want to see similar investment alternatives.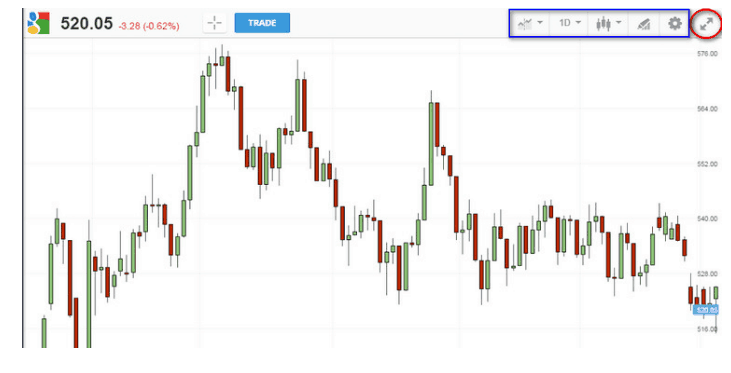 We conclude this part of the eToro review by remembering that the related financial chart is visible for each asset. It is a candlestick chart, although through the settings you can change the type of graph. Not only that, because it is also possible to select the time frame of the graph, as well as to apply technical analysis tools (such as indicators and oscillators), but also to draw trendlines. Everything directly from the graph on the eToro platform.
eToro – ProCharts: eToro charts
All traders know how important it is to carefully analyze financial charts in order to choose how to invest on a specific asset. eToro also knows the importance of having access to a good financial chart and, for this reason, it has introduced the eToro ProCharts, which have had a good impact on the community, according to the opinion of many traders
eToro ProCharts are advanced financial charts, which are now available on the eToro platform. The eToro team listened carefully to the feedback from its users, deciding to create a new graphics software to offer to its customers. One of the main functions of eToro ProCharts is to be able to see multiple graphs simultaneously, as seen from this image.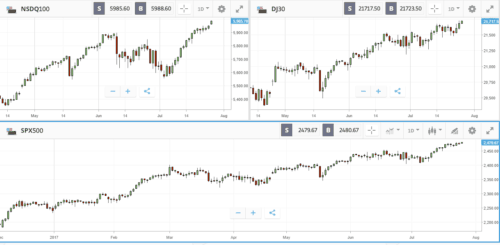 So it will be possible to analyze multiple assets at the same time, but it is also possible to view an asset with different time frames and thus have a better general overview of its performance. Obviously, the chart configurations that are created through eToro ProCharts can be saved, so that they will be immediately available whenever we want.
On ProCharts eToro charts it is also possible to apply a wide range of technical analysis tools, in addition to the advantages shown. This new eToro chart service is currently in beta phase, available to all users. To access eToro ProCharts you must:
go to the list of preferred assets;
click on a mini-chart and launch it from the menu;
ProCharts

eToro

will be launched, ready to be used;
for each chart you can set the asset to follow;
if you want to follow an asset on all the ProCharts eToro charts, you can mark the checkbox "One symbol" and the symbol of the selected chart will be applied to all charts.
eToro – copy trading: how does it work?
Past performances are not indicators of future investments.
At this point of our opinions on eToro, it can be useful to try to understand how the new eToro CopyTrader tool works, recently revised to be able to further optimize it for the benefit of traders who want to exploit social trading for their investment purposes. Let's start from the basic idea, extremely simple: each trader can choose the trader to "copy", choose the amount with which they want to copy and look at his account that, automatically, copies the investments of the traders followed.
Of course, the above is a simplification. Before going deeper into how this innovative tool works, which has made eToro the undisputed market leader, let us try to clarify by remembering that:
– it is possible to copy with any amount, but not less than 100 Euros;
– it is possible to copy several traders, with a maximum of 20;
– you can assign to the copy of each individual trader a maximum percentage of 40% of your capital, unless your account balance is less than 250 euros (in this case the limit of 40% does not apply, with the consequence that you can copy a trader even with all your available capital);
– you can't invest more than 500.000 Euros on more than one trader;
– the minimum amount for each investment is 1 Euro.
The first thing to do in this case is to select the trader you want to start copying. Through the eToro platform it is possible to search for the best traders to copy, then select the ones to follow. When you want to follow a trader, you will see a screen of this type (visible below).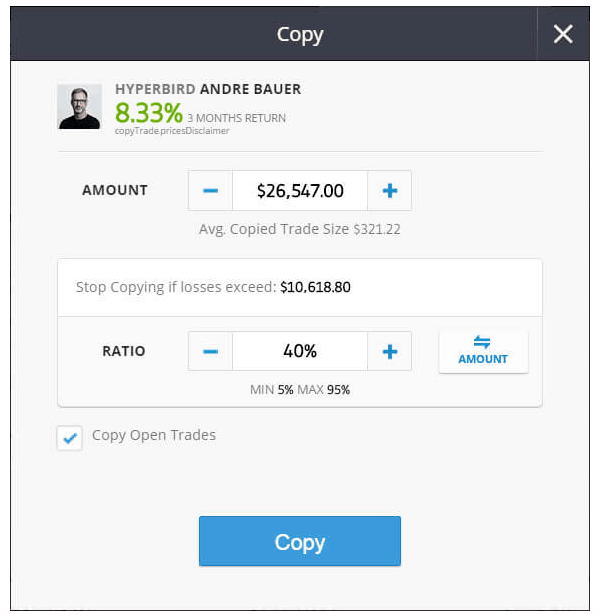 From this screen you can clearly see the settings we have to choose:
Amount: the amount of capital you want to invest following this trader. The minimum capital you can select is $ 100, while the maximum capital is 40% of the total capital available on your account (up to $ 50,000 as the maximum amount). If, on the other hand, the available capital on your account is less than $ 250, then you can also invest the full amount (without having to respect the 40% rule as maximum capital).
Average Trade Size: once the amount has been entered, the average investment that you will replicate for each operation opened by the trader you have decided to follow will automatically be shown. In our example, it is $ 321.22: it means that every time the trader you are following opens a position, on average you will replicate the trader's operation with that amount. If this amount is less than $ 1, it will be impossible to follow the investor (since eToro does not open positions with less than $ 1). The estimated average investment varies from trader to trader followed, because it all depends on the type of operation: there are traders who open a few positions per week, others who open dozens of them every day.

Stop Loss Ratio

: this is the maximum capital limit that you are willing to lose in order to copy the trades of the trader you want to follow. Basically it is set at 40%: therefore, if for example we invest $ 2000 to follow this trader, it means that, if by copying (automatically) his operations we are going to suffer an overall loss equal to 40% of our $ 2000 (or $ 800), then the copy trading system will be terminated automatically and this trader will no longer be followed. The eToro system allows you to set a stop loss ratio between the values ​​of 5% minimum and 95% maximum.
How to copy all positions. That said, it is legitimate to carry out an appropriate study on all the main operating characteristics of the CopyTrader. The main option (and probably also the simplest to manage), is linked to the possibility of copying all the positions opened by the copied trader. The copiers who choose this system, therefore, will find all the positions opened by the trader that they are copying, naturally under current conditions (and not, although obvious, at market rates at the time of opening the original positions). Bear in mind that copying all the positions also drags other settings (stop loss and take profit) and that it will always be possible to close a specific position without closing the copy account.
Copy the new positions. As an alternative to copying all the positions that have been opened by a trader, you can limit the copy to new positions only. Therefore, the copiers who choose this system will copy only the new positions that the copied trader will have opened after the copy action has started.
Pause the copy. Another particularly important function for those who want to work with the CopyTrader is that of "Pause Copy", which allows you to stop copying a trader without actually closing all open positions. When this option is activated, new positions will not in the the copy relationship, but all open positions will copy the stop loss and take profit, and the closing actions, of the copied trader.
What does eToro give you that IQ Option doesn't give you?
The question is not so easy since we are talking about two excellent brokers, but with profoundly different characteristics. Compared to IQ Option, in fact, eToro offers different types of services aimed more at social and inclusive trading.
As you will have noticed thanks to our review and our opinions on eToro, the broker is the leader of social trading in the world and has won the trust of more than 10 million traders. With social trading, users are connected to each other thanks to continuous discussions, exchanges of ideas, comments and trading strategies.
The eToro platform is therefore a social trading network, a community of traders and a place open to sharing ideas. Copy trading also allows traders to copy each other, as we saw in the dedicated paragraph above. This function therefore allows not only discussions, but also common operations.
Social trading is the extra gear of eToro, which makes it unique in the online trading landscape.
Trading features. eToro – summary tables
General features
| | |
| --- | --- |
| Minimum trade including leverage | 1000 Unità (USD) |
| Minimum deposit | Based on the Country, in some Countries / Regulations varies from 200$ to 10.000$ |
| Leverage | From 1:1 to 1:400 for professional clients. For retail traders, ESMA's regulations apply |
| Spread | Starting from 2 pips |
| Quoted currencies | All main currencies |
| Leverage on funds | It is possible to use all funds with leverage, without collateral effects |
Expenses and fees
| | |
| --- | --- |
| Fees on deposits | No |
| Fees on trading operations | Yes |
| Fees on withdrawals | 25$ |
| Islamic account | Yes |
| Possibility to deposit with Western Union |  Yes |
 Support tools
| | |
| --- | --- |
| Online chat | Yes |
| Guided tutorials | Yes |
| Real time help | Yes (telephonic) |
| Real accounts | Yes |
| Economic news / charts / technical analysis | Yes |
Withdrawals and deposits
| | |
| --- | --- |
| Withdrawals of funds on credit card | Yes |
| Deposit method: PayPal | Yes |
| Deposit method: Bank transfer | Yes |
| Deposit method:  Credit card (MasterCard) | Yes |
| Deposit method:  Credit card (Visa) | Yes |
 Currencies and margin
| | |
| --- | --- |
| Maintenance margin | No |
| Accepted currencies for deposits | USD/EUR/GBP |
| Baisc currencies of the account | USD |
 Trading times
| | |
| --- | --- |
| Technical maintenance | On Sunday, when markets are closed |
| Trading times | From 10 pm GMT on Sunday to 9 pm GMT on Friday |
| Customer activity | 24/7 |
 User interface
| | |
| --- | --- |
| Ease of use | Easy and intuitive interface |
| Customer Care | Via e-mail, phone and chat |
| Online trading (independent, without dealer) | Yes |
| Registration form | Easy; in various languages |
| Account control by the user | Complete, direct, in real time |
| Total transparency: telephone contact with on-site staff | Yes |
| Access to the trading website 365 days a year | Yes |
| Languages ​​supported by customer care | English, Italian, Arabic, Chinese, French, German, Russian and Spanish. |
| Language supported from eToro website | English, Italian, Arabic, Chinese, Korean, Dutch, Finnish, French, German, Greek, Japanese, Norwegian, Portuguese, Russian, Spanish, Swedish, Turkish, Hungarian. |
Is eToro reliable and safe?
eToro is a regulated broker deemed reliable within the online trading market.
How does eToro work?
eToro is a broker that provides a platform considered by many to be particularly intuitive and fast. Among its flagship features is the so-called copy trading, through which you can copy the moves of the best traders on the platform.
How to use eToro?
To use eToro you need to register on the platform. For anyone who is a beginner, this broker offers 100,000 virtual dollars to spend on a demo account, so that they can train and practice all the various features.