All the new traders, who are entering the world of online trading for the first time, ask themselves a question: What is the difference between Binary Options and Forex?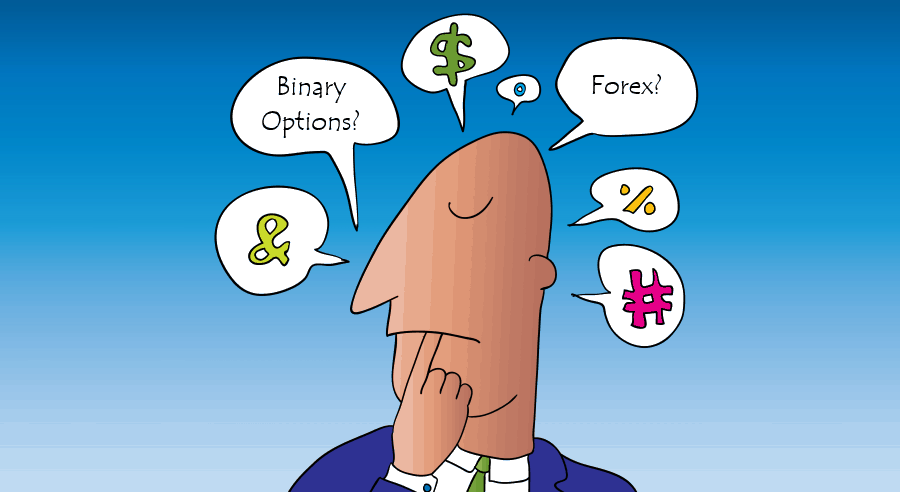 They are faced with the choice of deciding whether to invest with binary trading or whether to use Forex Trading. There are some very important differences between the two types of trading, which we will highlight below; we also remind you that before going to invest with real money, it is advisable to have:
A well tested and functioning trading strategy
Basic knowledge of the logics of the market, financial charts and technical analysis
Practice and experience made with a demo account
Before diving deeper into choosing Binary Options vs Forex let's see what is the substantial difference between Binary Options and Forex.
Binary Options or Forex?
Forex Trading:
The Forex market, from the acronym of Foreign Exchange, also known only as FX, is one of the most profitable and largest markets in the world, both for the amount of money used and for daily transactions performed.
When we invest in Forex Trading, we speculate on the value of a currency pair, taking advantage of the movements of that value (whether they are bullish or bearish).
For example, if the current price of the EUR / USD currency pair is 1.308 and, based on what we have, we know that the price will rise, we will invest upwards. When you invest upwards, you "open a long position": you buy the concerned asset (the EUR / USD exchange rate) and expect the value to increase, then you sell it and you earn the difference (between the price of sale and purchase price).
Conversely, when you expect a decrease in the value of a currency pair (a fall), you invest by opening a "short position". In this case, the broker "lends" us the exact amount of assets we want to sell, which is automatically sold as soon as we open the short position, generating a profit. This gain, however, remains "blocked": in fact, we should first return the exact amount of assets that the broker had lent us initially. We must therefore buy back the same amount of assets, and at that point our profit will be equal to the difference between the purchase price and the sale price.
Furthermore, the Forex market is not a closed market, but it is a market open to all types of traders; therefore the participants can be:
private investors;
international investors;
central banks;
private banks;
Governments;
small savers .
When you trade in the forex market, you can trade (buy and sell) using currency pairs from around the world (EUR/USD, GBP/JPY, CAD/AUD, EUR/JPY, etc …). In addition, the forex market is a very volatile market (i.e. with strong variations in the value of currency exchange rates), which remains open 24 hours, 5 days a week (from Monday to Friday).
Binary Trading
Online trading with binary options, unlike trading with the Forex market, can instead be considered as a much younger kind of trading and with a much lower turnover compared to what is Forex Trading.
In fact, the first binary options brokers were born around 2008 and only in 2013, with the birth of the first authorized companies, there were licensed binary options brokers: that is, a license issued by control bodies and supervision as CySEC. From that year on, binary options brokers have also had to comply with MiFid directives, as well as European anti-money laundering laws. In order to have a valid European license, a binary options broker must obtain the relevant license from the supervisory body of his country (where he has his registered office).
Unlike Forex trading, operating in binary trading is very simple: binary options can really be explained to anyone, because their operation is really simple. With binary options, you have to make a forecast on the future trend of the price of an asset (selected by you): will the price of that asset increase within a certain period of time (called expiry, always chosen by you) or will it decrease?
We have to specify that there are various types of binary options:
Call/put binary options (also called high/low)
One touch binary options (also called Touch or No Touch)
Range binary options (also called Interval)
Short term binary options (also called "Digital options")
Binary options are so called binary because the investment can only have two outcomes: gain or loss. A key feature of binary options is that from the beginning you will know exactly how much you can earn and how much you can lose from your trade. The profit for each binary option is called "Payout" and is calculated as a percentage of the amount invested: investing € 100 on a binary call option, which offers a Payout equal to 85%, means having (potentially) a total gain of € 185 (net of € 85).
Usually the binary options payout varies from a minimum of 60% to a maximum of 90% for call / put and short-term binary options. If you also use the other types of binary options, the Payout can reach percentages ranging from 150% to 500% of the invested capital.
It's important to notice that with binary options you can invest on different assets:
Equity securities
Equity indices
Currency pairs
Commodities
Obviously, when you use binary options to invest, you will never really own the underlying asset: in fact, binary options are contracts that take place between you (the trader) and the binary options broker. Therefore, binary options are financial instruments useful only to speculate on changes in the value of the assets.
Another feature of binary options is the expiry: the expiry would be the time between opening your binary option (when you invest) and closing your binary option. There are different types of deadlines to choose from; below we list the most common:
Short term expiry: 30 seconds, 60 seconds, 120 seconds, 300 seconds
Middle term expiry: 15 min, 30 min, 1h, 3h, 6h
Long term expiry: 12h, 24h, 1 week, 1 month
Difference between Binary Options and Forex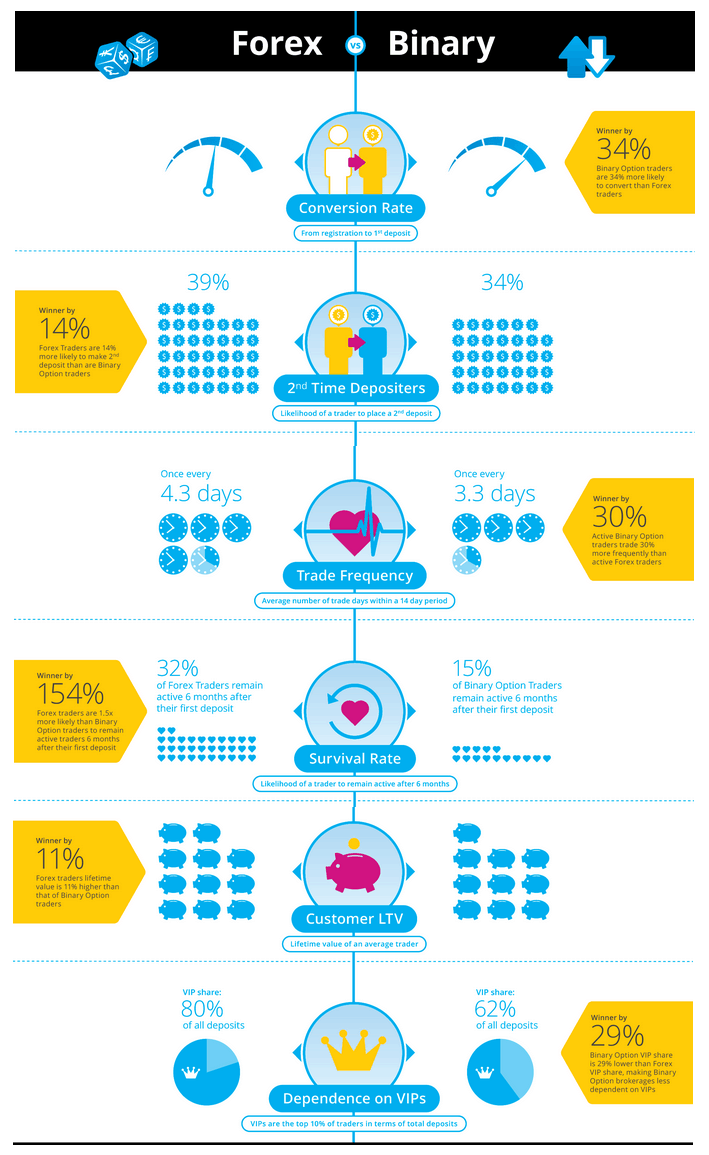 Before going to examine what are the differences between Forex trading and trading with binary options, let's look at what can be considered similarities instead.
Similarities
Both the Forex market and the Binary Options market are open markets; by this we mean the possibility of operating throughout the day, 24 hours a day during the week.
The brokers of both markets offer the possibility to trade online with a small amount of capital, for example they offer you the possibility to open a demo account or a real account with a minimum investment of about 100-200 EUR, even if some forex brokers can request larger amounts.
On both markets you can invest both upwards and downwards.
Differences
Let's analyze now the differences betweeb Binary Options and Forex. 
In this regard, we remind that:
With binary options, we have the opportunity to get to know what are the profit and risk before we even start trading.
Forex Trading does not allow you to know your profit until you decide to close the position; in this case, therefore, the gain is variable and not fixed. With binary options you will know from the beginning both the potential gain and the potential loss.
Trading with binary options has an increasingly higher risk than what is the reward; that is, the return is between 60% and 90%, but in the event of a loss, you risk the entire capital (unless you operate with Range Binary Options and One Touch Binary Options).
With binary options, in order to obtain a concrete profit, a percentage of winnings greater than 50-60%, must be achieved.
With binary options you can trade with different assets; while with forex only on currency pairs.
With binary options there is no need to place stop loss or take profit levels, which are fundamental for those who work in the forex market. Although there is a similar function called "early closing".
Binary options are easier to use, because they do not involve the use of stop loss / take profit (key elements of forex) and the leverage is not used (double-edged weapon in the forex, which amplifies both gains and losses)
What we wanted to enclose here, represents only a small summary scheme of what are the differences, but also the similarities, between the Binary Options and Forex.
Both markets bring advantages and disadvantages, but on the basis of what has been said so far, we can evaluate what the differences are, then take a decision and try a demo account with a Forex broker or even with a Binary Options broker.
Conclusions
Forex trading and binary options trading are two very different types of trading: each has its advantages, there is no doubt. It's up to you to decide which of the two types of trading is right for you. Our advice is to test both forex trading and binary options trading, but using demo accounts.
A demo account is a type of account that uses virtual money: in other words, you will never have to make a deposit and you will never invest real money. By practicing in both markets, you will be able to understand which of the two best suits your trading needs (but also your portfolio).
To experience the difference Binary Options vs. Forex and your binary options strategies, choose the best broker below, which allows you to trade both with binary options and Forex, and try trading with demo accounts.